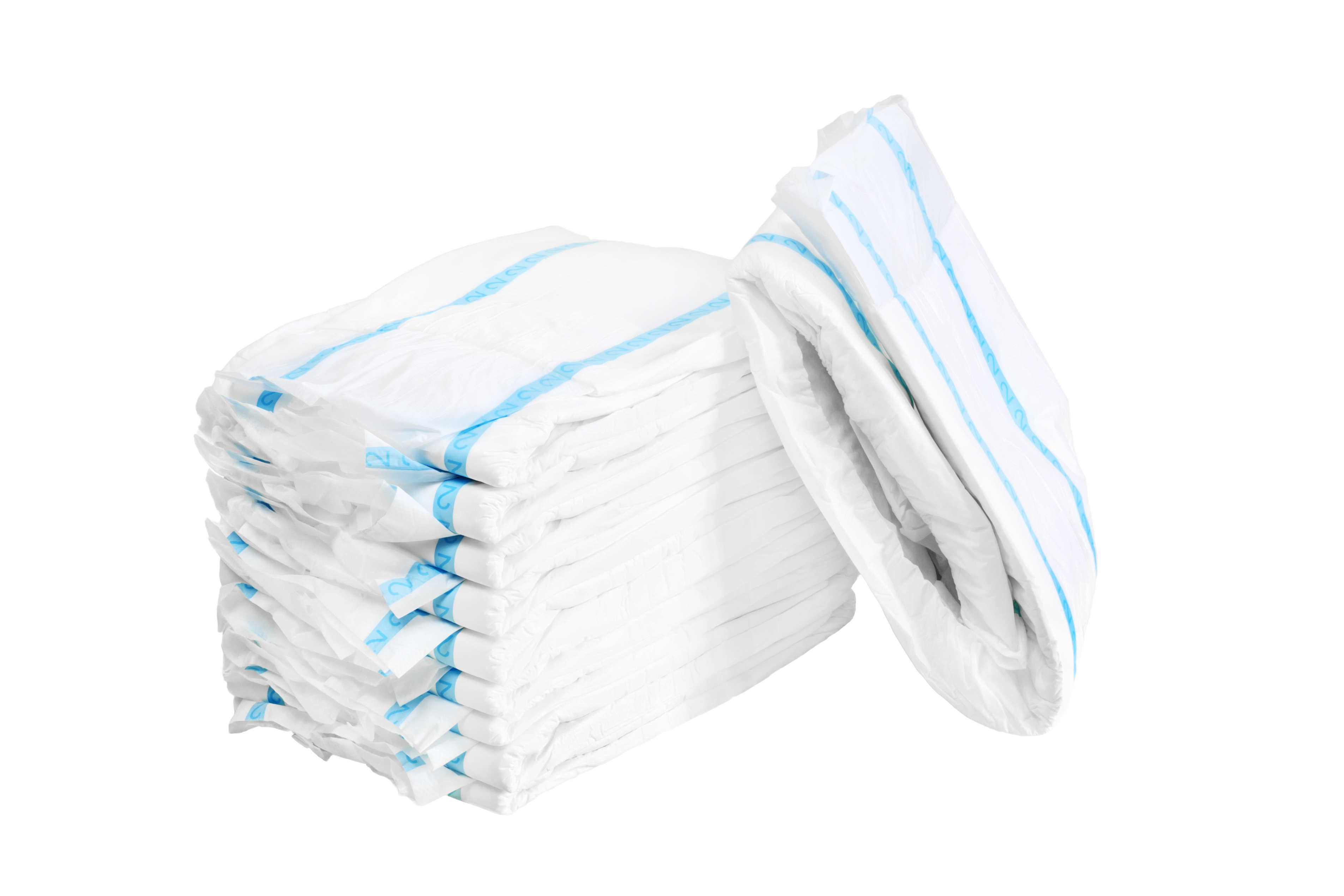 Incontinence pads are the best solution when it comes to a delicate problem like urinary incontinence. These hygiene products are completely invisible under your clothes and provide dryness, protection, and reassurance. No matter what the cause of the ailment, incontinence pads come in a variety of forms, so you can pick the option that's right for you. How to choose the right means of hygiene - we will tell in detail in this article.
What are adult pads?
Incontinence pads or adult diapers are absorbent hygiene products that are designed specifically to absorb bladder secretions and protect the skin from moisture and rashes. They allow you to go about your normal activities without worrying about the onset of involuntary urination.
Few people know that about 5-7% of the world's population suffers from urinary incontinence. Therefore, the question of the right choice of hygiene products is quite relevant for both men and women. Many of those who are faced with involuntary urination do not know what parameters to pay attention to when buying and how to choose the best pads that fit your lifestyle.
How do incontinent pads work?
Incontinence pads hold in moisture. In other words, they absorb fluid with special absorbents. Most of these pads have a unique absorbent layer in the middle that allows them to collect moisture and hold it securely inside the product, leaving clothing and skin dry. Such hygiene products often also have the additional advantage of preventing unpleasant odors due to the addition of a special type of polymer.
With the development of new technologies, pads that best meet people's needs are more often produced. For example, male incontinence pads differ from feminine pads in their design, as manufacturers take into account the anatomy of their users. The absorbency of the pad also affects its size and thickness. The lighter the problem of incontinence, the more discreet and thin will be the means of hygiene. If the disease has a severe form - you should pay attention to the pads with a greater absorption capacity. However, they are not always convenient to put on and take off.
Features of incontinence pads
When choosing pads, it is important to consider some features of the products:
Adhesive backing. Small pads from incontinence always have a special adhesive strip on the backside, with which the hygienic product is fixed to the underwear. Larger pads are usually available without an adhesive backing. However, this does not mean that they will move to the sides. Due to the increased size, pads without adhesives stay in place by themselves.

Length and thickness. As a general rule, thin pads are more inconspicuous under clothing. However, thicker hygiene products have an increased absorbency. The length of the product also affects the amount of liquid absorbed. The shorter the pads, the less urine they can absorb. Such pads are more suitable in cases where a person has mild incontinence.

Odor Blocker. Some hygiene products add special polymers that can break down ammonia - the "smelly" component of urine. Thus, the unpleasant smell of excreta is reliably blocked.

Additional protection against leaks. If you need pads for bed incontinence, it is recommended to give preference to products with side ribs. Just with their help provides additional protection against leaks. This is especially relevant for users with an active lifestyle.

Larger size. Some pads have an hourglass shape. In other words, they are wide enough in the front and back. Such products are designed for people of large sizes.
What kinds of bed pads are available for incontinence in Canada?
Men's incontinence pads
Most manufactured pads for urinary incontinence are suitable for both men and women. However, some manufacturers offer hygiene products designed specifically for male users. Such products have a special shape suitable for comfortable wearing, taking into account the anatomical features.
Incontinence pads for women
Hygienic products are placed inside the underwear and prevent urine leakage due to their absorbent properties. Feminine pads vary in shape, size, design, and other parameters.
Underwear with a belt
Such hygiene products resemble diapers, but without the sides. This underwear is a pad of great thickness and length with two straps - the so-called "belt", which fixes the product to the body. Of course, they have a large absorbency and are designed for abundant urination. Such bed pads for incontinence can be used even at night.
Boosters
Such products are also called "depends pads" because of their peculiarities of use. Boosters are designed to increase the absorbency of the product. They are inserted inside the existing hygiene product. Once the liner is filled, the moisture is transferred to the next layer of the pad.
Pants pads
Are large and perfectly absorbent hygiene products. Pants pads are ideal for users suffering from urinary incontinence with profuse discharge.
Bowel pads
Such products have a special shape that allows them to retain not only the spontaneous discharge of urine but also of feces. Some models of Tena incontinence pads are designed just for such situations.
Reusable Incontinence pads
Most pads are designed for disposable use. However, there are also incontinence hygiene products that can be used multiple times. They consist of a fabric material in which special inserts are inserted. Once the booster is full, it is thrown away and replaced with a new one. The reusable pad can be washed at any time. Washable incontinence pads are the best option if you want to save money.
How often should I replace the pads?
To answer this question, you should consider the individual characteristics of each person. First of all, the frequency of pad changes depends on the severity of the incontinence. Most pads show their effectiveness within 3-4 hours, so it is recommended to change them 4-6 times a day. In general, it is necessary to be guided by the specific situation, because everyone with urinary incontinence needs to stay dry. To ensure maximum protection and to feel comfortable, change the pad before it gets too wet.
Fast Ask Questions
Can incontinence pads cause yeast infections?
Yeast infections often affect people with urinary incontinence. To reduce the chance of infection, you need to choose the right hygiene products and change them on time. Remember that pads are an ideal breeding ground for various bacteria, which cause unpleasant consequences: itching, redness, swelling, and rashes.
Are incontinence pads free in the NHS?
The NHS is a public health service program through which Canadians can be partially or fully reimbursed for the cost they spend on buying incontinence pads. It turns out that certain categories of citizens will get hygiene products for free.
Are incontinence pads safe and toxic?
Pads are personal hygiene products, so to manufacture them, manufacturers will have to obtain the appropriate license. If all production standards and legal requirements are met, pads are completely safe to use.
Can incontinence pads cause itching?
A painful symptom like itching is usually caused by bacteria that instantly multiply in the pad if it's not used properly. Itching is usually accompanied by redness, burning, and another discomfort. Especially such symptoms are observed in the genital area and the inner thighs when the protective top layer of skin is damaged. To prevent the occurrence of painful sensations, change the pad promptly. Before using a new product, thoroughly clean and dry your skin.
Do incontinence pads decompose?
It takes a long time for incontinence pads to decompose. The absorbent layer, which is usually made of special polymers, is considered particularly destructive to the environment. To avoid harming nature, do not throw sanitary pads in the general trash. Used pads should be placed separately and wrapped in an antibacterial sealed film. They can then be sent to a landfill or given to special companies for disposal.
Are incontinent pads covered by Medicare?
Medicare pays most, but not all, of the cost of medical services. Depending on the type of insurance and the individual case, the program may additionally reimburse the cost of buying incontinence pads. You should contact your insurer for more information specific to your situation.
Can incontinence pads be covered under HSA?
The Health Spending Account can reimburse almost all of the expenses spent on medical services for your family, including your parents. All of these amounts will be deducted from your income and marked as a business expense. In other words, they will not be tax-deductible.
However, only people who work on a contract or for themselves and those who run a business get this option. If you fall into one of these categories, you can be reimbursed for all the money you bought urinary incontinence hygiene products for. However, each case is handled individually, so check with your financial advisor for this information.
Conclusion
Urinary incontinence is a sensitive problem that few people can openly talk about. To prevent others from noticing it and it does not cause you discomfort, the best solution in such a situation is to use special pads. The choice of such means of hygiene should treat responsibly and carefully. First of all, take into account your specific situation. In this case, the most important are considered the frequency and abundance of discharge during the day. We hope that our article was useful to you and helped you make the right choice!