2019-02-12 13:54:36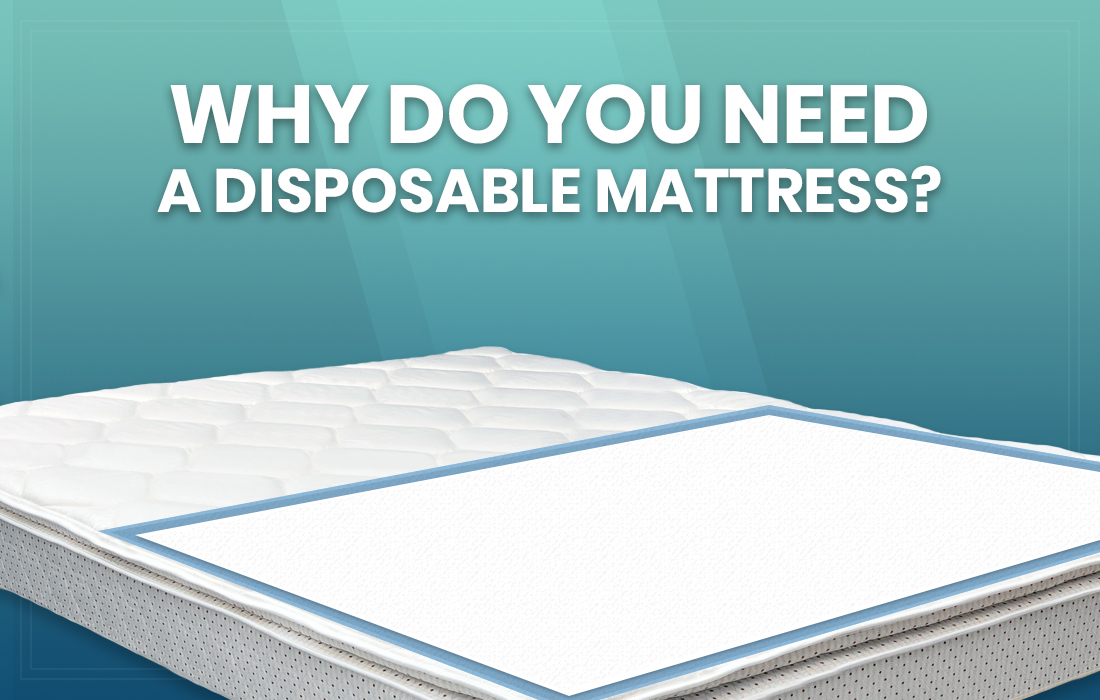 Why Do You Need a Disposable Mattress?
While many people use disposable products daily, they are not always aware of how many health-related goods are designed for short-term use. For example, have you ever heard of a disposable mattress? This type of mattress comes in handy in a number of settings. In fact, you might be someone who could put this type of disposable device to good use. Here are some things you should know about disposable mattresses, including when to use them.
Understanding the Concept of a Disposable Mattress
The idea of a disposable mattress is very simple. Instead of a mattress that is constructed for long-term use, this option is only intended to serve a purpose for a short time. The choice of materials may be similar to those used in traditional mattresses, and they do tend to be quite comfortable.
While designed for use in the short term, the life of these mattresses can be extended by investing in supplies like a disposable mattress cover and disposable sheets. Once you are sure the mattress is no longer worth keeping, it's easy to discard and replace with a new one.
Where Are These Mattresses Used?
The typical disposable mattress supplier ships to a wide range of health care facilities. You'll find that they are often used in certain wards of hospitals. Nursing homes and extended care facilities are two more examples. Some rehabilitation facilities may use these types of mattresses for any patients who remain on the premises until they reach a certain point in their therapy and other treatments.
What may surprise you is that these types of mattresses can also be purchased for home use. People with chronic conditions that lead to incontinence find them helpful. The same is true for people who must wear colostomy bags at night. Anyone who has to deal with drainage after an operation or who has temporary incontinence during a recovery period are likely to find these types of mattresses work well for them.
Can They Be Used Along With a Standard Mattress?
n many cases, a disposable mattress is not quite as thick as a standard mattress. It's also lighter so it's easier to move into position. That means you could simple place the mattress on top of a traditional mattress. This approach would work well for anyone who has mobility issues and finds it difficult to get in and out of bed. It also serves as a cover that prevents damage to your permanent mattress.
Keep in mind that you would still want to use disposable sheets for the top mattress along with some sort of cover underneath. That will extend the life of your temporary mattress as well as protect the permanent one.
Disposable Mattresses and Removing Odors
One of the reasons to consider investing in this type of mattress is the fact that you have more control over odor in the bedroom. When you have a health issue that leads to incontinence or any type of drainage, even using supplies like a disposable mattress protector will only provide so much protection. You certainly don't want to stain your traditional mattress, since even the most aggressive cleaning is likely to leave some residue. Over time, it's more difficult to mask the unpleasant scent in the room.
With a disposable mattress, getting a replacement is easy and quick. Removing the old mattress from the room is simple. When you get rid of it, the odor trapped in the material goes along with the mattress. What's left is a brand new clean mattress that helps to enhance the scent in the room.
Keeping the Patient Comfortable
Another point in favor of a mattress that's considered disposable is the added comfort. Most mattresses of this type are designed to provide support while also creating an environment that's conducive to sleep. Even if you have to be bed-ridden for a time after surgery, the support helps to take pressure off your back and lower body. That means you are less likely to be in pain because of the body aches caused by spending all day and night on a standard mattress.
Disposable Mattresses and Supplies for Better Control of Bacteria
Along with the mattress, using disposable bed sheets is a good idea. You can purchase designs that look just like regular sheets. The only difference is that the materials are water resistant. Some of them will even whisk moisture away from the body.
You can purchase what are known as peel away sheets. These are actually layered designs that come in fitted and flat versions. When you need to change the bed linens, simply remove the top layer. There will be a clean layer underneath. In terms of being able to change the bed quickly, this option is hard to beat.
You definitely want disposable waterproof mattress covers to go along with the mattress and your disposable sheets. Between them, controlling residue and bacteria will be much easier. Life is difficult enough when you have to be concerned about leakage at night, so employing these products will certainly make things easier.
How Often Should I Get a New Disposable Mattress?
Several factors influence how often you should replace a disposable mattress. All of them are related to the nature of your health issue and what other supplies are used to keep the bed as clean as possible.
You can expect to get more use from the mattress if you invest in disposable bed sheets. Choosing to also keep a mattress sheet cover on hand to go with those disposable sheets will protect the mattress and prolong it's useful life.
How much time you spend in bed will also make a difference. For example, are you facing two or three months of being in bed with only short periods of physical therapy and maybe sitting up while you regain your strength? If so, you will need to replace the mattress more often. When the mattress is mainly there to ensure you are covered in the event of leakage at night, it will last longer.
A traditional mattress is usually good for anywhere from seven to ten years. Your disposable mattress could last for two to four years or need to be replaced once or twice a year. Along with how you use the mattress, factors like the materials used will make a difference. For example, you may find that a memory foam mattress provides support and remains relatively clean for a longer period of time.
Tips For Choosing the Right Mattress
As is true with many products, you can bet that one disposable mattress will be different from the next. What works just fine for someone else may not be the best fit for you. By keeping a few basics in mind, you can select a design and manufacturer that provides what you need.
One of the first things you want to consider is the materials used for the mattress design. Even with disposable models, some materials hold up better than others. Ideally, you want something that is sturdy enough to provide the support that you need while still being soft enough to be comfortable.
Materials that allow for more air circulation are excellent choices. That's one reason different types of foam are routinely used for disposable designs.
A mattress shell that's easy to clean is also worth the effort to find. Even with the use of mattress covers and disposable sheet sets, there's still some potential for staining. When the shell resists most types of stains, it's easier to keep the same mattress for a longer period of time.
Mattress depth and thickness is also something you want to consider carefully. Most disposable designs are not as thick as a traditional mattress. Expect them to be roughly the same thickness as an inflatable mattress you would use for camping or as a spare bed for unexpected company, or possibly a little thinner.
Do you plan on replacing your permanent mattress with disposable ones, or simply laying the disposable device on top of your current mattress? With the latter, you could go with a thinner choice and still be quite comfortable.
Ratings and reviews will also help you find out what others think of disposable mattresses offered by different manufacturers. You can learn quite a bit about which ones are most comfortable, and how easy they are maintained. Those reviews will also give you a better idea of how easy it is to keep the mattress clean.
Whether you need disposable mattresses and other supplies for a short period of time or will need to use them the rest of your life, it pays to choose wisely. Check with reputable suppliers of different medical supplies and find out what they recommend. If possible, ask for a sample so you can get an idea of how the mattress material feels. With the right choice, you can look forward to enjoying sleep without worries and also find it easy to keep your bedroom clean and relatively odor-free.