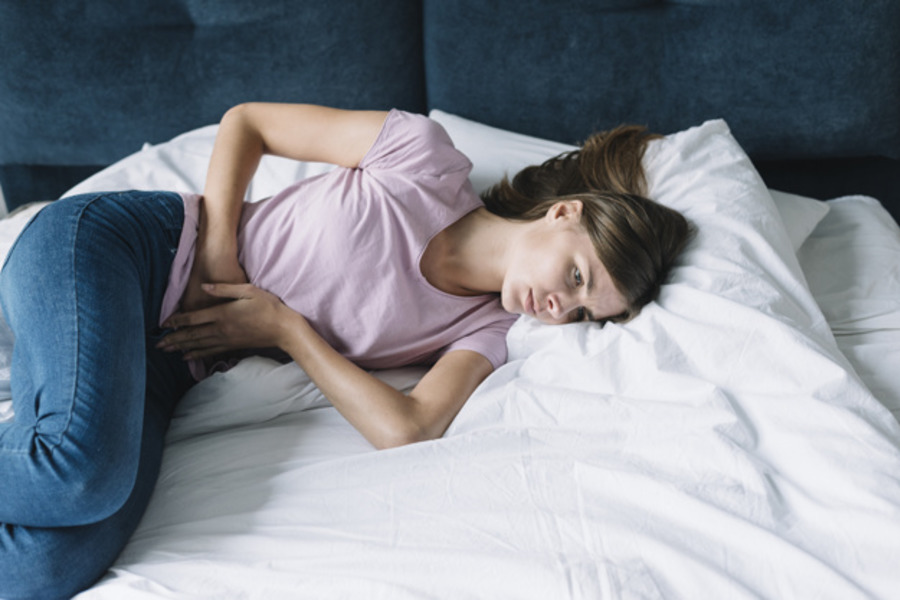 2020-07-21 09:04:59
Bed wedge pillows can be used in a variety of ways, and for a variety of reasons. One of the most common uses of bed wedge pillows is physical ailment relief. A lot of people who suffer from acid reflux tend to use bed wedge pillows because of the angle it keeps them at. The angle helps lessen the severity of the symptoms, therefore allowing the patient to sleep better and heal throughout the night. Patients have been known to use this product for ailments like congestion of all kinds, various cold and flu symptoms, and more. Fortunately, the uses don't stop there! People actually use them a lot for recreational purposes as well! Having trouble reading while lying flat on your back? The bed wedge pillow is the solution! Maybe you want to eat in bed? Not a problem!
If you're pregnant and are suffering from various pressure pains, using a bed wedge pillow may benefit you significantly. Depending on how you lie on the pillow, you may be able to lessen the pressure on various parts of your body. You can lie with your back at an angle, or with your legs and feet suspended slightly in the air. Some people have even been known to use the bed wedge pillow to get over swelling, inflammation, and even DVT (or in other words Deep Vein Thrombosis).
Curious as to what a bed wedge pillow actually is? Well, its actually a relatively simple object. It's basically a firm piece of form that's been shaped into a wedge. The pillow is firm enough to maintain its shape yet soft enough to remain comfortable. The pillow allows the user to lie in specific positions during the day or while asleep at night. Bed wedge pillows come in a variety of sizes and shapes. There are even different firmness levels for those at different weight levels. You can get them in different colors and designs as well if you're looking to complete your bedroom aesthetic (or wherever you plan on keeping it). Believe it or not, you can even use two at once! Some people actually prefer to use the wedge underneath their legs all the while having another underneath their shoulders.
If you're looking for one of these products, the best place to look is definitely wherever your general practitioner recommends. They'll recommend the shape, firmness, size, and a lot more. Of course a lot of that is up to you, but its always good to have the opinion of a medical professional. Especially one that knows more about your health than you do! Do keep in mind that if you have ever suffered from blood clots, be sure to ask your doctor before using this product. Patients with a history of blood clots may not be safe while using this product, for the various angles and blood flow manipulation may be deemed somewhat risky.
A lot of people prefer to use compression stockings after using the bed wedge pillow. This ensures that the blood doesn't immediately rush back into your legs after they've been elevated for so long. Excessive blood rush may cause dizziness and other issues. If you don't plan on using compression stockings, we recommend you be careful and slowly get up after each use. You wouldn't want to get up quickly and injure yourself!
For more information on the bed wedge pillow (and other related products) feel free to visit and read some of our other articles. We would also like to recommend that you speak with your family doctor before doing anything medical wise! That goes for the bed wedge pillow and all other medical gear and methods.
Related Products
RECOMMENDED USE : Patients at low risk for skin breakdown and friction burns.

Economical, machine washable heel and ankle protective device.

Soft cotton/polyester fabric minimizes the risk of friction and shear.
Comfortable hollow core micro-fiber filling.
Hook and loop fasteners for quick and easy application.
Distinct left and right boots keep straps away from adjacent foot.

An innovative body wedge that can be used in many positions to support back, knees and legs

Comes with removable, washable, white poly / cotton cover

Premium Orthocush comes with top surface of 1" Visco Memory Foam surface for added comfort and weight distribution

Sleep in comfort with this Bed Wedge Cushion. Offers ideal comfort and positioning for those suffering from acid reflux, joint pain, back aches, and other ailments. Proper positioning also improves breathing and can help reduce snoring. Read, watch TV or just relax in comfort.